Unit Manufacturers
Glass Office was originally designed with sealed unit producers in mind and we have concentrated on building the most user friendly user interface on the market today.
Everyone in business needs orders. A Glass Office order can start life in several ways, it can by typed in, it can have been a previously entered quote, it may be copied from another job, or it can be imported electronically from another system – removing the need for re-typing.
For sealed unit makers, most jobs will start life as a manually keyed in order or as an imported order. Orders can be imported from all the major UK based window programs, and also from up and downstream suppliers/customers, using other products. Importing orders electronically can save huge amounts of keyboard time and will reduce keyboard errors. In this way, Glass Office is working with you, not against you.
When the customer confirms his order, an order acknowledgement based on his bespoke prices can be sent to the customer for his signature and approval. If there are accompanying Georgian or Diamond/Square leaded layouts these can be sent off to the customer for approval. Any drawings (DXF CAD images) can also be sent to the customer, for example those for glass conservatory roofs. All of the above can be done by email, as well as traditional post or fax.
When the signed order acknowledgement is received back from the customer, the job can be scheduled for production. If you buy in toughened (tempered) glass, then a separate toughened purchase order for just the toughened single glazed leaves can be printed (or exported electronically).
Some IGU manufacturers will then print a works order for the factory
The glass can either be made on a job by job basis, for smaller manufacturers, or larger ones will want to optimise the glass in batches. The glass optimiser can help with sophisticated racking whilst still providing good yield and utilisation of the optimised sheets of glass. A label can be printed for every unit.
For example, you may wish to separate the annealed and toughened glass into different racks, and you may want all the glass that will be leaded to be together on one trolley, so that it can be taken to the leading department. If you have a spacer bending machine, you may want to rack in spacer type sequence, etc. All of this and more can be accommodated by the glass optimiser.
Orders can be tracked through the factory with the barcoding module. This will keep track of where all the items of an order are, and can help with factory loading. Once at despatch, the units can be 'tied' to a delivery vehicle, so they can't be loaded on to the wrong transportation (the barcode gun will beep and show a red light if you try to put the wrong unit on the wrong vehicle).
The driver is issued with both delivery notes and a delivery manifest, detailing the drops he has to make, and any COD monies he has to collect.
All of the paperwork generated above can be scanned back into Glass Office, so that you have a permanent record of what was done and you won't, therefore, need to keep masses of paper records, which are difficult to search through.
Glass Office has the ability with it's filter to search, so you can find any piece of glass or unit with minimal information, for example, find any Diamond Leaded Units we supplied during the last 6 months that are 500 x 700 +/- 50mm. This, combined with scanning of documents, will make it easy to find old orders, and will reduce the amount of time and space needed to keep old printed records.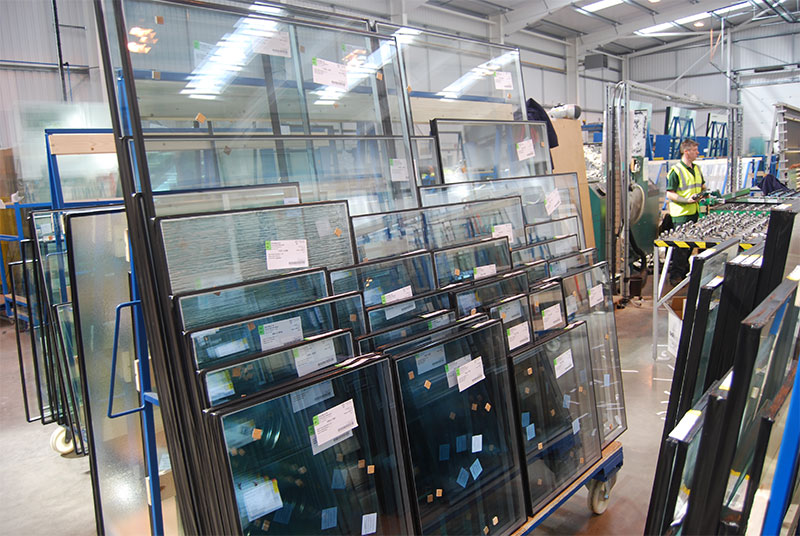 IGU customer case studies
SOFTWARE FOR GLASSWe've recently launched a new Glass Office option "Vehicle Loading Monitor" to help you to scan items onto your vans and make sure nothing gets missed.  The loading monitor uses the existing barcoding module and shows the progress of the loading...
read more