"…huge material savings and streamlined production.."
Glassline Ltd one of the UK's leading independent sealed unit manufacturers, based in East Sussex has made further investments in software solutions from reputed provider, Clear Thinking Software.
As part of a progressive investment in highly automated equipment, Glassline has now reinforced its strong market position which firmly places the company ahead of competitors. Currently, the company produces 1000 sealed units per day and with the installation of a new Forel super spacer line as well as a furnace, Glassline expects to increase this to 1500 units per day by the end of this year.
David Trewin, Managing Director at Glassline, has used Clear Thinking Software solutions since the company was established in 2000. With the new investment in warm edge technology, the company has upgraded the software package, Glass Office, to increase efficiency.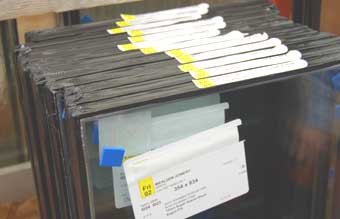 This includes new bullet labels for all customers (see picture above and click here to see sample and explanation of the label's use) as well as a 7 user system for order entry, whilst larger customers can now benefit from EDI. This enables companies to receive orders on-line which can then be checked directly via the software program, which saves considerable time on order entry checks. Glass Office is tailored to each companies requirements and the number of operatives can be increased at any time as the business expands.
Additionally, Clear Thinking's GlasSave optimisation solution has been seamlessly integrated into the Hegla cutting system at Glassline. The program enables glass with different manufacturing requirements to be cut from the same stock sheet. For example, a shaped piece of glass for a conservatory roof may be mixed in with more general work if this improves yield. This is done without compromising the production flow. This highly effective and cost-efficient solution impressed senior management at Glassline, as it greatly improves organisation within the company's manufacturing facility.
A batch of work for a whole day can be sent down to the shop-floor, and Glass Office will cleverly divide it into 'sub batches', the size of these are dependant on the number of trolleys that Glassline can arrange around the break-out table. The software will subsequently sequence work to a predefined structure.
At Glassline the critical sorts encompassed different trolleys for annealed and toughened work, and then different trolleys for aluminium spacer and work for the new super spacer line. Within the super spacer trolley, all the glass must be presented in pairs (eg clear and Low E) and in the correct sequence for the super spacer line, to minimise bobbin changes.
Work is also sorted individually for each customer so that everything will generally come off the end of the line and arrive in the despatch area together, which keeps jobs synchronised. This helps more 'complete and on-time' deliveries and minimises handling and sorting in the despatch area, which can be a major issue for many companies with a wide and varied product mix.
Clear Thinking Software has also successfully linked with the Forel system for Georgian Bar slitting. Consequently, the Georgian bar layouts can be designed in the office, and then the Forel Super Spacer applicator will automatically cut slits in the spacer, so that Georgian bars can be quickly and accurately located, which eliminates a time consuming and complex production process aspect.
David Trewin comments, 'The software system from Clear Thinking is extremely simple to use and easy to navigate which made it the obvious choice for us. The new labels have been very well received by customers, and in particular by our fitters. With the new racking, all glass is passed to despatch in the correct sequence and it is presented to the Forel line in super spacer type sequences to minimise bobbin changes.'
He concludes, 'Without the new software, which has helped streamline production enormously, we would not be able to function effectively. Now with the extra software modules, we will be able to reach our target volumes more quickly and efficiently. At Glassline, our aim is to stay one step ahead of competition and Warm Edge Technology is here to stay, so we want to be in the vanguard.'
Malcolm Searle, Managing Director of Clear Thinking Software comments, 'Technology is developing rapidly and with the market moving more and more towards warm edge super spacer, it is imperative that we develop software solutions that will simplify production methods for manufacturers. This is clearly demonstrated at Glassline with the shape nesting program which will open up huge possibilities for the company in relation to the new conservatory roof brand 'Kooline'. We look forward to developing our business relationship further with the Glassline team.'
Article first appeared in The Gl@zine – 10th June 08