"…75% reduction in glass wastage at the cutting table"
Established in 1973, Glas-Seal based in Ballynahinch, Co. Down, was the first company in Ireland to manufacture hermetically sealed double glazing units. Today Glas-Seal produces over 1000 DG units per day, incorporating soft and hard coat low-e glass, Argon and Krypton gas-filled cavities and warm-edge spacer bars. Glas-Seal were the first and are still the only company in Ireland to stock and process all Pilkington fire-resistant glasses – Pyroshield, Pyrodur and Pyrostop.
Clear Thinking – experts in software for glass – were called in by Glas-Seal to help them with a number of issues facing them – they had an ever growing complex range of products to make – they were unhappy with the glass waste from their old MSDOS computer system and they felt there was scope to improve their production processes, but had limited space in the despatch department to sort jobs into the correct order for deliveries.
Clear Thinking performed a thorough review of their system, and proposed and implemented the following new strategies:-
1. The whole days production would be made in one large planned batch,but they still kept their one "remake and emergency" batch to continue to provide good customer service. This meant batching over 1000 units (2000 pieces) in one batch, but Glas-Seal could only cut 400 pieces of glass at a time around their cutting table. The solution was to 'sub-batch' the work into 400 pieces per sub-batch – this is essentially what Glas-Seal had been trying to do manually before with their old DOS computer system.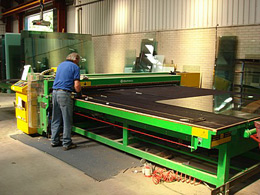 The clever part of the Glass Office system from Clear Thinking was that having cut (for example) 10½ sheets of 4mm for the first sub-batch they would usually be left with a ½ sheet offcut which would need to be taken off the table and reused later. However, the Clear Thinking system scans ahead through the rest of the work for similar requirements and 'pre-cuts' these pieces which are put on a small temporary trolley ready for the next set of 400 pieces to be cut. This is done for every substance in each sub-batch, even if (eg) there is a requirement for a few pieces of 4mm Active in the first sub-batch, but there are not any other pieces needed for another 2 hours – these can be pre-cut, saving waste and labour on handling the sheet on and off the table.This has virtually eliminated offcut handling during the day on all substances that are cut, because all offcuts are reused before they become offcuts. It has also reduced the table side cullet from 2 cullet bins per day to one every other day, so a 75% reduction in waste at this stage in the production process.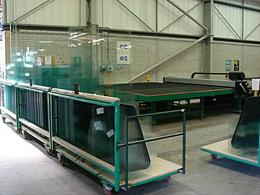 2. This requirement was made more complicated by the need to balance the 3 production lines at Glas-Seal, they have a Bystronic, Ashton and a "Specials" line
– all the Argon filled work possible to be fed down the Bystronic line, and it can cope with any shapes with at least one right angle
– everything else not gas filled to go down the Ashton line
– all the specials (leading, unusual shapes, stepped units, etc.) would go down the specials line
A further requirement was to measure the throughput of each line and ensure that they all had enough work so that there weren't any times where any line was waiting for work, so some load balancing was needed.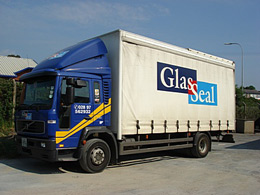 3. Because there is limited space in the despatch department, the third contribution that Clear Thinking made was to sequence all of the manufacturing into delivery route, so that all the work came off the end of each individual line in the grouping required, so all jobs for route one would come off together (possibly off each line for a complicated mixed job). Within each route, each customer's jobs were all together and the jobs were in the correct sequence to load the vehicles (ie. reverse drop order), and within each job, the units were sorted largest to smallest, so that they could easily be stacked on a stillage. Clear Thinking also allowed – within all of this – for a job for a customer to go directly to site, even if the site was on a separate route and drop to the customers usual address.
All of the above criteria are always in conflict with each other in any factory, and improving one (eg glass wastage) inevitably reduces another (eg flow through the factory), Clear Thinking helped Glas-Seal balance out these conflicts, and therefore have produced a smooth flow of work through the factory, better despatch processes, and also saved a significant amount of glass wastage.
Jonathan Neill – the Operations Manager at Glas-Seal says, "The thing we liked about Clear Thinking was that they contributed their ideas and industry experience to the project, but they also listened to our concerns and problems, we then arrived at a strategy together that suited the current situation in our factory. The system has paid for itself very quickly, both in 'hard' measurable terms like significant savings on glass, better deliveries, and improved utilisation of all of our sealing lines (and therefore has reduced unnecessary overtime). It has also helped in 'softer' areas; production planning is now much easier as we can see graphically how much capacity we have for each machine on the shop floor, in customer service where now everyone in the sales office knows (via the barcoding) where every unit is in the factory, and in management reporting, so we can tell who our most profitable customers are and comparative figures for day to day reporting."
Jonathan continues, "Glas-Seal supplies several of Ireland's leading window companies with glass for their 'A', 'B' and 'C' rated windows, our DG units are tested and certified to BS EN 1279 parts 2 and 3 (a prerequisite for use in Window Energy Rating approved windows). As part of our review of our infrastructure, 2007 will see further milestones reached with the completion of our CE marking programme and installation of £1m of capital equipment, including state-of-the-art toughening, polishing, drilling and CNC machinery."
"We are over the moon with the system – Clear Thinking have brought their expertise to our business and helped make the transition between old and new methods very smooth."
Article first appeared in Window Fabricator & Installer – September 07