"Clear Thinking liaised closely with GED… The software system has paid for itself many times over, the support team are very responsive, the program has proved to be very flexible and reliable…."
Double R Glass and Roofing Systems Ltd of Wellingborough have been a customer of Clear Thinking Software since 2000, and have now grown to a size where they needed to move to a new larger factory and install both an automatic loading edge deletion cutting table and a toughening furnace.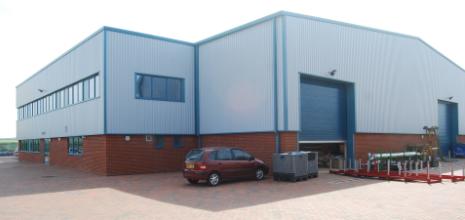 Double R Glass & Roofing System's factory (above)
Ian Sims, Managing Director of Double R says, "We have now reached a level where the market was asking us for a high performance sealed unit, and our volumes meant we could justify the next step to produce our own toughened softcoat units. To do this, we needed to be able to edge delete our own glass, so we approached one of our existing suppliers – GED – who had provided us with an automatic leading machine, which we've been very pleased with. They have been able to provide us with a 6 station auto loading cutting table with edge deletion, which was ideal for our needs."
Clear Thinking liaised closely with GED and have now added the GED equipment to the list of equipment they can link to. Ian continues, "The new GED glass cutting table has the ability to cut shapes, so we have added the shaped nesting software from Clear Thinking, this means that when we make glass roofs we can minimise our wastage, and not waste a large percentage of every shape that we cut. This is especially relevant when you consider that many roofs are often made of one sheet of tinted or self cleaning glass and one sheet of low e glass, so the combined cost is very significant, this means that we are still competitive even on high specification products."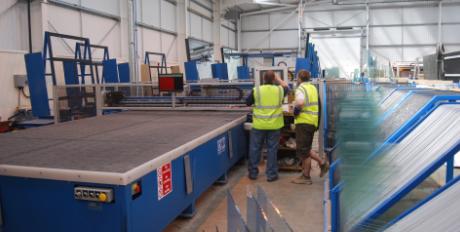 GED glass cutting table (above)
"With the addition of an LGT furnace they are now able to toughen glass up to 1500 x 3000 if required. Using the Clear Thinking software program we can now also predict the amount of toughening furnace time we will need each day based on the product mix and sizes. It's been a real benefit to us, as new tougheners, to be able to have a yardstick to measure our performance against."
"We're big fans of technology here," continues Ian, "All units in the factory are barcoded, so that at any time of day we know exactly what we've made, what is in the despatch department and what has been delivered. So, if a customer calls and wants to collect his units unexpectedly, anyone in the sales office can tell him when the units will be ready without leaving their desk or having to go and ask someone in the factory. This means that everyone in the company can do 'customer service' quickly and efficiently.
"We accept orders electronically from some customers, for example one our of largest customers is Glazerite who fabricate Veka frames. They use the Business Micro's Evolution software, which sends all the glass information straight into the Clear Thinking Glass Office program by EDI (Electronic Data Interchange), so all units are the correct size and specification 100% of the time, without any re-typing. But the really useful thing for Glazerite is that we will print an additional barcode on our unit label which allows Glazerite to immediately identify which frame the unit belongs to, as they book it in when we deliver the units. This saves them a lot of time and manpower and helps eliminates damage and misplaced units."
The EDI package also defines the position of Georgian bars, so that for EDI orders no-one has to design the Georgian layout, this has already been done by the customer in their window fabrication software. This speeds up the process and eliminates errors and any ambiguity about the design. The Glass Office software will then instruct the automatic saw to cut the Georgian bars at the correct length so that subsequently, it's just an assembly job to make the Georgians. This also happens with leading, and as we have the GED automatic leading machine which we bought in 2007, all standard leads are produced quickly and consistently to the customer's specification."
"It's this extra attention to detail that we believe will benefit us in the long term and whilst the price of units is important, if we can save extra manpower for our customers and we can assure them of complete deliveries every time and can prove that, this gives us a significant edge. Even in these less buoyant times, we remain committed to our plans to consolidate our position in the market. We make a high quality Kitemarked unit with a 5 year guarantee, but that is only part of the equation, we also have the systems and infrastructure to cope with all of the coming legislation and have made the right investments to give us the economies of scale that small companies will probably never be able to match."
"Each of these things in isolation may not seem a massive contributor to our continuing growth and success, but in our view, if we can work smarter with less people and use technology efficiently, that translates into less cost for us, which means good prices for our customers, better customer service, less admin time and ultimately happier customers who will stay loyal to us."
Double R are also a recent convert to the Clear Thinking sub-batching system, this has meant that they can save a significant amount of handling and glass wastage over normal batching. It also means that all orders for the same delivery arrive at the despatch department in the correct sequence to be loaded for delivery, and so saves time and manpower in their despatch department.
Ian concludes, "Next year will be our tenth year using Clear Thinking's software, and I have to say that it has paid for itself many times over, the support team are very responsive, the program has proved to be very flexible and reliable and Malcolm Searle is always willing to pop in to discuss our future plans and give us advice on the best way to maximise our investment in their products. We've needed to upgrade our machinery as our business has grown over time, but we've never needed to consider replacing our software, we've just kept adding new options to it."
Article first appeared in Clear View magazine (North, South & Midlands) – August 2009