How Clear Thinking improved productivity and order entry at a DGU company in Hampshire
In 1991, Dave Crook formed South Hants Glass, now after many years of successful trading, they make high volumes of quality units and are on track to double production. His customer base is spread all along the south coast.
Dave felt constrained by his old software, and looked around for a system that could both grow with his business and also help him grow his business.
When Dave first contacted Clear Thinking, he had a German software package, which the South Hants order entry team found slow and un-intuitive to use. The old system didn't link into their Sage line 50 accounting system and the vendors were not keen to implement any of Dave's innovative ideas to improve the software.
In contrast to this approach, Dave found Clear Thinking a breath of fresh air. "They understood what I wanted to do and were happy to integrate some of my ideas into their software. Since installing Glass Office from Clear Thinking, our throughput is much quicker than before. They also understood the UK glass market intimately having installed over 100 systems in the last four years".
Dave hopes to get some of his larger customers using EDI (electronic data interchange), i.e. emailing their glass orders over to him, this will save a lot of re-keying, and the mistakes and additional labour implicit in re-keying orders from fax.
Later, Dave plans to allow customers to dial into his web site and see the status of their job, and it's position in the factory.
The Glass Office system also generates a lot less paperwork than his old system, as once sent to the shopfloor, the pieces of glass are cut and racked in a known sequence and there is no need for labelling, until the unit is assembled, when a finished label for the customer can be applied. This label can even show which pane of glass, within the customer's window, the unit will go into, which is especially useful if the unit is leaded or Georgian.
The toughened glass is automatically ordered from his suppliers in advance of the annealed glass being cut, so that the whole job comes together on the day of manufacture.
As a part of the expansion plans, a fully automatic insulated glass line from Promac/For.el was installed in 2003, together with the Promac/MTL Pro-Cut Saw and Panther Automatic Glass Cutting line, the interaction between the software and machinery enables the production team to automatically select and optimise glass and spacer bar. With these special links to the CNC equipment and with the advent of Bar-coding, these new systems will deliver better control and flow to production, enabling SHG to push production towards 5000 units per week. Future plans to enhance capacity and control lie with a new sealing robot, that is earmarked for later this year.
The 'glue' which ties all of this machinery together is – of course – the software.
Dave can fax his customers the day before delivery with a summary of tomorrow's deliveries, so that the customer knows exactly what they're getting, it's another example of Dave's increasing customer service. All of this, and barcoding, helps the despatch manager plan his routes, van loading and he knows the weight of the planned deliveries even before production has started.
Dave has a A0 plotter with 42″ wide paper, so that Glass Office can print out full size plans of bespoke lead layouts for the shop floor and in addition can show customers an A4 scale drawing of the layout of lead and Georgian work, prior to manufacture- rather than after it!
Dave has a final say, "Having Glass Office from Clear Thinking has revitalised our business, we can now look forward to managing the business based on the detailed information it provides, rather than guesswork. It's true to say that Glass Office has made us more efficient, it has given us more control over our business and we have up-to-date date information about all aspects of the organisation, and as the software is so well integrated, we don't have to print out reams of paper to achieve this".
Toughened Glass arriving
sorted into sequence

Order entry on Glass Office software
| | |
| --- | --- |
| | |
| For.el Line | For.el Line |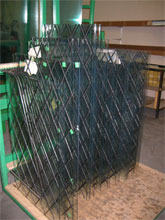 Leaded Glass – sorted and racked in a separate trolley
http://www.southhantsglass.co.uk/
Article appeared in Fabrication & Glazing Industries magazine – February 05