"there's a phased plan to implement new software options as they become appropriate, integrated alongside their strategic plans for growth …".
As with any expanding business, software requirements need updating from time to time. Neil Sharda, Managing Director of Sharda Glass in Middlesex, recognised that the software they purchased a few years ago wasn't working hard enough for his business.
So he did the sensible thing and Clear Thinking Software were called in to do an audit of their own software. They spent a full day talking to everyone involved at Sharda Glass, from sales people through order entry, production, despatch and accounts to ensure that everyone was using the software to it's full potential and that the business had all the modules it needed, and none that it didn't need.
Malcolm Searle of Clear Thinking said, "We found some outdated practices, where modern methods could help, where Sharda Glass could take advantage of the latest technology, and other examples where training would help the order entry people do their job more quickly, more accurately and in a way that meant everyone else in the company was aware of the history of each and every job. This meant that everyone is now able to perform good customer service at the point of contact, which is usually an incoming telephone call."
Sharda Glass was established in 2006, and have been spearheading a quiet revolution in the glass industry. They are specialists in glass manufacture and their glass production enables innovation in form, creativity in finish and sustainability in function, for building management and maintenance. They are also one of a very few companies whose portfolio includes many bespoke glass structures and outstanding examples of architectural glass design for commercial office and mixed use developments, retail, sports and leisure, municipal and transport projects including involvement in all the UK's main airport terminals. Other projects include residential loft style apartments for urbanites and minimalist glass extensions such as winter garden rooms, adding space and a refocus of rural or suburban period houses for the way we live now.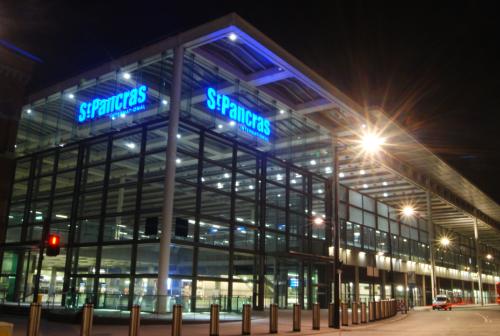 St Pancras station (above) where Sharda provided all the safety laminated glass
Clear Thinking and Sharda Glass now have an on-going project for the implementation, training and full use of Sage credit checking for customers, document scanning of all paperwork to do with each customer's project, and bar-coding of goods in and out of their two sites in West Drayton.
Neil Sharda says, "This has been a very worthwhile exercise for everyone involved, we had previously bought some options that weren't being used or weren't being used to their full potential. There were other options where we were able to show Clear Thinking how their concepts were sound, but the software needed to be changed to be more flexible in our busy day to day environment, and we have also ordered some new options that we needed but didn't have."
Neil goes on to say, "The cause of this is no-ones fault. Our business needs have changed over time as we've had rapid growth, including moving to two sites, so we've focused on growth and production issues, not IT systems, but it has been rewarding to take time to reassess our needs and realign what our software does with our current and future strategy. We can easily have 100 jobs as work in progress at any one time, and often have customers calling to check progress, so we need to know where in production the orders are and if we're on schedule with the manufacturing process. Being able to answer these questions quickly on the spot without going into the factories and calling the customer back has been great, both in terms of customer satisfaction and wasted time for my team here."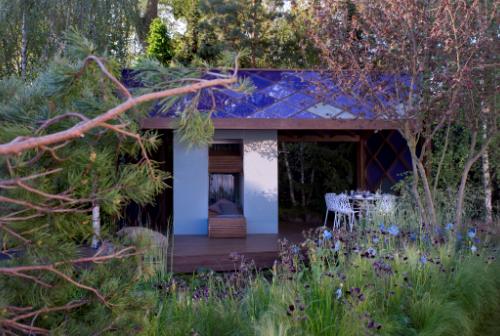 Chelsea Flower Show 2010, where Sharda provided all the glass for the pavilion and helped landscape designer Darren Saines collect a silver gilt award for his Norwegian Garden (above).
Malcolm concludes, "Time and again we find that most of our best ideas come from our customers, and we're happy to put our hands up sometimes and say that it's probably a shortcoming of Clear Thinking to market themselves well. So, although we're good at developing and supporting our software, telling the world about it is not our strong point. This audit has been a great exercise for both Clear Thinking and Sharda Glass, in that we have been educated about exactly how our software is used by Sharda Glass in the field and therefore how we can improve it and they now have a phased plan to implement new software options as they become appropriate, integrated alongside their strategic plans for growth and as they diversify their portfolio of specialist services to their clients. This means that they will get maximum use and benefit from it as they grow."
Article first appeared in Glass Times – November 2011