"..we've really got a hold on costs and margins, and at the same time we've increased our profitability"
When the proprietors of Cheadle Glass, founded in 1968, first considered how best to celebrate their 40 'ruby' years as glass processors, they very quickly realised that the best birthday present that the company could have would be to ensure that its success could be assured for another 40 years.
Keith Flowers, its Managing Director, instigated an 'across the board' audit of the company to assess where the company could become even more efficient.
"It soon became apparent that many areas of the company could become more effective simply by introducing a more user-friendly, bespoke, practical and up-to-date software package," said Keith.
The Stockport-based company came up with a number of key requirements that the new software had to have available.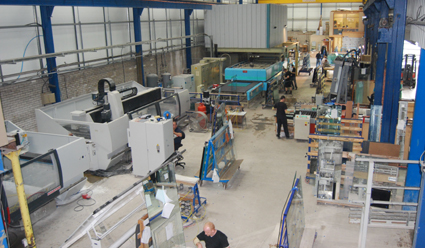 A view of Cheadle Glass' factory, above
Keith continued, "We identified nine critical areas across the whole operation of the company that we saw could be greatly improved by the implementation of new software. These ranged from our Accounts and Administration departments, through to Pre-sales & Sales Order processing, as well as Production and Management disciplines and Reports."
"We considered a number of software options and selected Clear Thinking Software as the partner most suitable to be able to answer our requirements and develop our processes in the future."
Consequently, Malcolm Searle, Managing Director of Clear Thinking Software, set about providing those solutions for them. Malcolm commented, "The first thing we did was take members of their management team to one of our reference sites, so they could actually see some of our software in use."
"We always find this practical experience extremely rewarding for the client, and in almost every instance it immediately reinforces how the software can be of huge benefit to their company.
"Cheadle Glass is a very successful company and throughout its 40 years has grown to become one of the leading specialist glazing and conservatory companies in the North West. Inevitably, throughout that level of growth, processes need to be made more efficient.
"For example, they had an MSDOS system that required 26 users: we've now installed Glass Office with just 12 users that provides the same and potentially more throughput. Also in their Accounts department, we were able to provide them with real-time Credit Checking as Orders were input onto their Sage system."
Malcolm continued, "So far as their production processes were concerned, it was very obvious that originally their planning was very much paper-based. We have now been able to provide Cheadle Glass with much better visibility of production for the week ahead, simply by pressing a button and without the need for reams of paperwork."
The overall effect that Clear Thinking has had is perhaps best summed up by Chris Doyle, Commercial Director of Cheadle Glass, who says, "The team from Clear Thinking worked constantly with our staff to ensure a smooth transition and this partnership continues as we maintain our development.
Since installing Glass Office, we've really got a hold on costs and margins, and at the same time we've increased our profitability! We like to think that by installing this software, we've gone a very long way towards ensuring our continued success for the next 40 years."
Article first appeared in The Gl@zine – 11th November 08