Superior production methods with state-of-the-art investments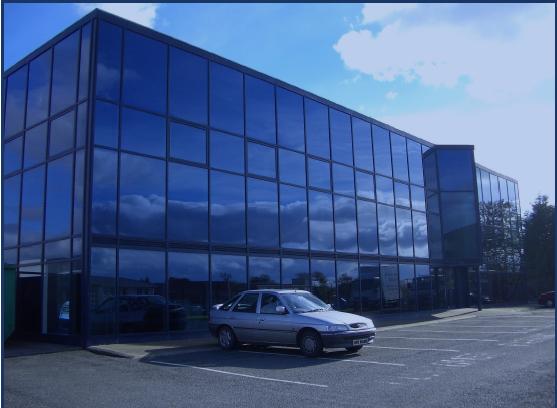 Factory and offices at Lisburn Glass (above)
Lisburn Glass Group was established in 1986 by Michael Alexander and Trevor Gowan and the company has seen phenomenal growth since that time with a turnover of £4m. More recently a major investment programme has firmly placed them as market leaders with the purchase of a new manufacturing software system from Clear Thinking Software and advanced Bystronic Glass equipment.
Currently, Lisburn Glass make anywhere between 400 and 800 units per day, and whilst this may not seem a lot in some circles, when you consider that the average size of a unit for them is 1.5 sq.m and they service the commercial market, then you appreciate the throughput of their factory. The factory is considered one of the most modern with quality production facilities that could be mistaken for a Bystronic showroom.
The cutting systems from Bystronic provide a highly automated manufacturing process yielding optimum performance and top quality products which meet and can surpass all of the legislative requirements. Lisburn Glass produces consistently high standards to an ever changing market.
One of the clever things they needed Clear Thinking's Glass Office program to do was to 'split jobs'. This means that although there is one order, one invoice and one delivery note, different parts of the jobs are launched into the factory at different times, to ensure that they all reach despatch simultaneously. Many customers that Clear Thinking meet are doing this manually, inflicting several individual invoices and delivery notes on their customers for a job containing mixed products (eg. toughened, float, leaded, Georgian, etc).
"When Clear Thinking initially came in, they extracted all of our account information from our existing system and imported it into Glass Office, which made the transition much easier," said Glynis Spence, Office Manager at Lisburn. "We were able to parallel run the system alongside the old one for about a week, then we felt confident enough to embrace the new technology. Now we find that using Glass Office is so much better than the old system, we wonder how we ever coped before. Finding old orders and answering customers queries has become something anyone using Glass Office can do. Glass Office also transfers all of the invoices straight into our Sage accounts system, and keeps an audit trail of the transfer, so we can tell exactly what's been invoiced on any day" continues Glynis.
Nesting of shaped pieces of glass was vital to the project, and as this is something Glass Office could already do, this helped everyone's confidence and motivation to get live with the system, so that Lisburn Glass could get the benefits of the material savings this provides. Glass Office can even help them prepare a DXF file for their CNC cutting machine, and can score the centres of holes for later drilling of thicker glass types, and score the cut-outs for patch fittings, notches and cut-outs, etc.
The production planning department now have much better visibility of forthcoming workload and capacity and can therefore do their jobs much better with the tools provided for them by Glass Office. These show a visual representation of the demand and capacity and enables the production controller to 'drag and drop' jobs into different batches, to even up the demand on each department.
The work can be sorted to suit whichever of their two Bottero existing cutting tables they choose to use, and to suit their new Bystronic spacer bender. Then toughened and annealed products are automatically put into different trolleys to go to different locations in the factory, this saves space around the furnace, and speeds up production of annealed units, so smoothing out the flow through the factory. This has reduced both idle time and the need for overtime, and is a subtle but crucial benefit. Glass Office has moved the scheduling from the shopfloor to the office, so now the office don't ask the impossible, as they can see where the bottlenecks are and smooth out the production flow, before sending the information to the shopfloor, rather than the production manager being swamped with demand and having to fulfil this role.
Lisburn Glass also make painted glass panels and now this is also made easier with Glass Office, as it can give advance notice of paint colour matching requirements in advance of the glass being cut, so that this stage isn't rushed.
"We soon hope to progress to barcoding," says Michael Alexander, joint managing director of Lisburn Glass, "which will give us even more control in production and despatch departments. Soon we will be able to barcode each unit onto a stillage for transportation, and will be able confirm which unit is on which stillage to a customer, without any extra labour on the shopfloor or office. As we service the north of England and Scotland, this will be a major boon to us, our transport company and our customers and will improve our customer service even further."
Alan Linsdell, National Sales Manager, Bystronic Glass comments, "We aim to provide customers with tailored solutions that will assist customers in improving production methods and raising profit margins. The team has developed a strong and significant working relationship with Lisburn Glass and we look forward to continuing to work alongside them in their future developments."
Lisburn have also just invested in a Bystronic 20 position rack storage system and 2 6×3 metre cutting tables, one for float and one for laminated glass. Given the large size of the units we normally produce, this will improve our cutting yield significantly over our older 3×2 tables says Michael Alexander, it will also enable us to stock more specialist glass types without taking up a lot of valuable factory production space.

Article appeared in Fenestra Journal magazine – January 06