"We're extremely happy…. Clear Thinking are helping us to grow our business…"
Software solutions provider Clear Thinking Software was recently chosen to supply its new Optimisation programme for Regional Toughened Glass (RTG), a subsidiary of LGT, leading glass toughening plant suppliers based in the Midlands.
RTG was started as a subsidiary company to LGT in order to present a working showroom factory for flat glass toughening plants with the added advantage to supply single toughened glass within a poorly serviced area regionally. The knowledge and experience of the Clear Thinking Software team, headed up by Malcolm Searle played a significant role in the decision making process for the RTG management team.
Using extensive industry knowledge and a clear understanding of RTG's business requirements, Clear Thinking Software installed the Optimisation program so all production methods are now interlinked. Additionally the software has been linked into the accounting package at RTG to ensure that every manufacturing stage can be monitored with the option to create internal orders if required.
The Clear Thinking Software Optimisation system provides RTG with a simple, user-friendly solution that provides direct links to the automatic systems in place to ensure that the factory can run more efficiently. The new software solution will also greatly assist in the diversification possibilities of the product range.
Phil Lockwood, factory manager at RTG comments, 'The new software system has enabled us to improve production methods and improve output in the factory. The software is simple to use and has been quickly and efficiently incorporated into our facility. Logistically, at the touch of a button we know exactly where we stand in terms of orders, throughput and delivery which greatly helps efficiency within the company.'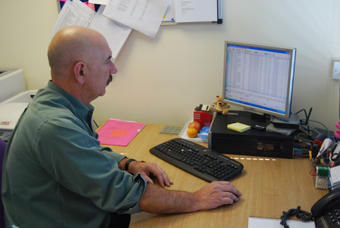 Phil Lockwood, above, factory manager at RTG
As a showroom company to LGT, the products from RTG are recognised for their quality which was a contributing factor in choosing Clear Thinking Software products. Understanding the business requirements of the company and the standards for which it is recognised was imperative for management at both RTG and LGT.
The support and advice provided both during and after installation by the Clear Thinking team has proved invaluable and compared to other companies, the software products have proved economically viable.
David Cahill, Director, LGT comments 'As an investor I am extremely happy with the software solutions provided by Clear Thinking Software as this will help to grow the business and allow for product development.'
Malcolm Searle, of Clear Thinking Software comments, 'It is so rewarding for the entire team to see customers so satisfied with our products and services.'
Article first appeared in The Gl@zine – 20th May 08