Established in 1949, Ecoglass have grown to become a market leader in the insulating glass market in East Anglia.
Operating out of a modern 25,000  sq.ft factory in Norwich, they can produce over 7000 softcoat, high performance units  per week for both the architectural and domestic markets, and deliver them over the whole of East Anglia, Bedford and north east London.
                                                         Ecoglass Lisec sealing line
Within the factory, the latest Lisec cutting equipment means that they are one of the few companies able to supply 6×3 laminate softcoat glass from stock. The fully automatic Lisec sealing and gas filling Lisec line, means that they can consistently produce  high quality sealed units including triple glazing, for their customers. With over 100 different glass types in stock and a glass processing department that can make balustrades, kitchen splash backs, bathroom showers, etc, there's not much to do with glass that Ecoglass can't supply.
Gaby Mendham, one of the directors at Ecoglass, is very active in the GGF and is chair of the East Anglia region. Gaby is keen to push for innovation and lead the industry, and is an outspoken advocate of standards and transparency within the glass trade industry.
Ecoglass had grown to a size where they needed to toughen their own glass, not just for economic reasons, although financially they have been able to justify the purchase of the furnace for a few years now. The impetus to invest in their own furnace was to be able to tightly control quality and be in complete control of all aspects of their manufacturing processes.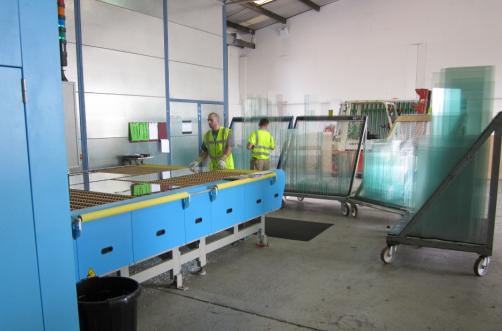 Ecoglass toughening furnace
Gaby explains, "We are fastidious about ensuring we provide the best possible quality and service.  Having total control of all processes ensures we can do this."
Very early on in the process, Ecoglass realised that software would play a key part in ensuring the success of the project and called upon their software provider – Clear Thinking Software – to help them plan for the changes. Gaby goes on to say, "One of the major challenges with this installation, was to control movement of glass and minimise glass handling, also to load the furnace in the correct sequence to minimise the furnace bed loads. This meant that the glass had to be cut in the right sequence, but we didn't want to cut too much toughened glass too early and starve the annealed sealing line (or the decorative department) of work."   
"The Clear Thinking optimiser's ability to mix both float and toughened pieces on asingle stock sheet and then to put each piece into the correct slot cart in the right slot, so that annealed glass is sorted for it's production (eg leaded and Georgian separately) and the ability to sort the toughened into the correct sequence to optimise furnace bed yields was crucial, which in turn saves us money on energy costs."
"Malcolm Searle of Clear Thinking sat down with us and explained what he had done for other customers like us, and then incorporated our own input about how we wanted to work, and together we devised a workable plan and schedule for manufacturing, that has revolutionised our production. Now the factory operators see what they're used to seeing in terms of glass coming down the Lisec sealing line, but the glass is cut faster and much more efficiently. So the impact of us having to cut 50% more glass (now we're not buying toughened in) has been minimal. We bar code units around the factory, so we know at any time where all the parts of a job are and anyone in the office can see the progress of a job. This has meant that our customer service levels are excellent."
"This project has not only given us savings on glass. We've achieved a net labour saving, as we're cutting more efficiently and we're now not having to sort out glass on arrival from a third party toughener. There was also an unexpected bonus in that the factory is now a safer place to work, as the number of offcuts being handled has been hugely reduced."
"Over the last decade we've evolved as the industry has changed from a company doing lots of small inefficient batches to a company doing larger batches and higher volumes, and Clear Thinking Software have help us on this journey with advice and suggestions, and visits to other customers to see their software in action. For us, the furnace was the final piece of the jigsaw, and means we can take control of our own destiny and we think we've achieved the right balance between big company efficiencies with small company customer care."
Article first appeared in Glass Times – November 2012