"Innovative labelling solve our problems…"
Double R Glass & Roofing Systems Ltd of Wellingborough has implemented a new labelling system for its sealed unit operation. The two part label consists of one detailed section which is placed on the front of the unit and a second, smaller part which shows their customer's name, reference and the size of the unit. This is placed on the top edge of the completed unit after taping.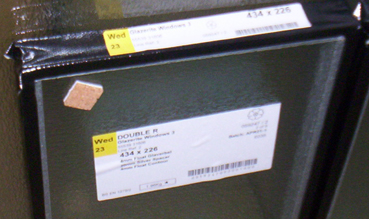 Having worked closely with Clear Thinking Software, Double R and the company's customers are delighted with the development. The additional label allows customers to see the details of the units when stacked, making identification easier, resulting in Fitting Teams spending less time looking for the right units.
Click here to see sample and explanation of the label's use
Article first appeared in The Gl@zine – 29th April 08