"…with valuable improvements from the Clear Thinking software package, it can only bode well for our future."
It requires an outstanding business proposition and a confident backer with long term vision to invest in the current climate, but this is the position that June Smith, previously the General Manager of Darby Scotland, found herself in. June was promoted to Managing Director as she had been fulfilling the MD function for the last 8 years. She has a wealth of experience with a diverse operations background, ranging from the textile industry to home furnishings, beds, furniture and latterly the glass industry.
June says, "The recent injection of capital into the business means that we have been able to make some key strategic purchases to consolidate our position as the preferred supplier for many window companies in the Central region. One of these purchases was new software."
"After extensive market research, we chose to invest in Clear Thinking Software to help reduce our already good wastage figures. The MSDOS system previously used was a good enough system, but the version we used had been designed for simpler times, and predated the mainstream introduction of K and soft coat glass. Clear Thinking's program (Glass Office) has been designed from the ground up, with modern manufacturing methods like lean manufacturing and theory of constraints in mind. This means that Clear Thinking have been very accommodating in helping us move to a position when we have lower waste, but good customer service and a better, smoother flow of work through our factory. Of course, good software is needed, but it's only part of the picture, as we have a willing and open minded management team and work force and we've been keen to try out and develop the new techniques that Clear Thinking have suggested, where we can see that the implementation will have both a short and long term benefit to our business. We firmly believe in making the software system work for us rather than vice versa, and so we extrapolate every possible tool from it to assist us in the achievement and maintenance of our core aims and goals."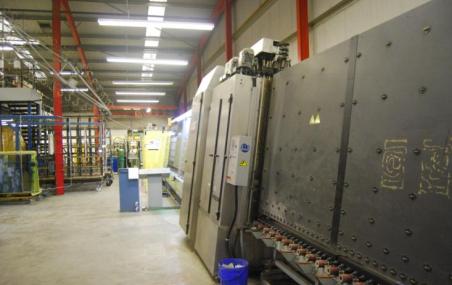 Darby Scotland's Sealed Unit Line (above) 
"We are also in a position to accept EDI (Electronic Data Interchange) from our customers. This saves re-typing orders and means that customer orders get processed more quickly and accurately. If there is a Georgian bar requirement, EDI is particularly effective as the Georgian bar positions can be imported, removing any subjectivity in the design process and eliminates the need to a) design and b) check with our customer that our interpretation of their sketch is correct. We just continue to make it right first time as always, but more quickly and hassle free in the knowledge that the design is exactly what they've specified."
Darby Scotland operate from a 22,000 sq ft factory in Glengarnock. Single shift capacity is typically 750 trade/domestic units per day on average, and 700 sq.m of toughened glass per day of their own glass. They also make and supply units to the commercial market using all manners of high performance glass on a nationwide basis on demand. They also make a high performance unit, with Low E glass and Swiss spacer which can give their customers an A rated window, but equally importantly, it is delivered to specification and on time.
June continues, "One of the key differentiators which I believe helps us to think and do things differently is that from the outset, I took a conscious decision to recruit my management team from outside of the industry, purely to eliminate the potential for falling into an ingrained mindset which is typical of any industry. We had to think and feel differently to 'the norm' in order to behave differently and set ourselves apart. Our DGU looked exactly like that of our competitors, so all we could sell was service and quality and we had to ensure that we did it better than anyone else – unlike the furniture industry where colour schemes, patterns and comfort predominantly sell the product. Some saw it as a gamble, as we may have lacked product knowledge ourselves in the early days, but we now have a factory full of glass experts, so I saw our main contribution as bringing diverse management experience, manufacturing techniques, people skills and an utter determination to bring long term success to our business, which in turn benefits all personnel who are all local to this close knit community and dependent on us for stable employment. We take this responsibility very seriously and we go to great lengths to keep our workforce informed in all aspects of the business, as it is only a collective 'we' who can screw things up."
"Over the early years, we have met and resolved many obstacles and challenges. Not least was resistance to change from our workforce, so its fair to say that, 8 years on, 80% of our original personnel are no longer employed by us. Some chose not to follow new leadership, some found they simply couldn't comply with the new regime or new ideas, and others thought they were far too important in the business to be challenged and asked to do things differently – but there's always a couple! We lost a few battles, but resoundingly won the war and in the last 5 years the workforce has been completely stable and all of our employees can be considered as long term – quite a rarity in an industry known for employees moving between companies. Flexibility is paramount to us and we have a very healthy cross fertilisation of skills throughout. Absence and timekeeping is excellently controlled and when people come to work every day and do a good job during that working day, we know we are achieving a consistency and flow, where everyone knows their role and place in the chain of events, which ultimately leads to success for both us and our customers."
"Our fleet of trucks will be upgraded over the coming months to incorporate two new specially adapted 18 ton delivery vehicles. This ensures Darby Scotland continues to maintain our unsurpassed levels of on time delivery, enabling our customers to forward plan their installations, safe in the knowledge that their glass arrives complete and on-time."
June concludes, "We have come a long way since starting out here, when certainly my biggest achievement each day for the first month was that I stayed the whole day! We are now well placed to take the business yet further and with new investment, the continued support of our customers and suppliers alike, a committed management, office and shop floor team, coupled with valuable improvements from the Clear Thinking software package, it can only bode well for the future."
Article first appeared in Fenestration News & the Gl@zine – November 2009