Efficiency meets specialism
– Specialist Glass Products has mobilised the planning and processing power of leading-edge software to support its multi-million pound growth strategy.
Uniformity and efficiency tend to go hand in hand. Manufacturing more of the same thing allows you to lower your manufacturing costs and deliver more volume for less. Squares, rectangles – they define IGU manufacture and in the vast majority of cases, processed glass.
Huddersfield-based glass processor and IGU manufacturer, Specialist Glass Products has placed a focus on efficiency equal to that of any large scale IGU manufacturer or glass processor. 'Uniformity', is however, not part of its vocabulary.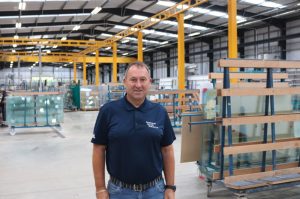 It has gone from a start up in 2003, to become one of the UK's leading trade suppliers of curved and shaped glass, including manufacture of over-sized and curved IGUs and processed products. And that means that no two days are ever the same, as Andrew Taylor, Managing Director, Specialist Glass Products explains.
"The defining shape of a curved unit means that the inner piece of glass is going to be smaller than the outer piece. "Say that unit is not only curved but a double laminate – you end up with four pieces of glass going into a single unit, none of which will be the same size.
"Doing any volume and working that out manually – the impact of a 1.5mm interlayer; the impact of the spacer bar and edge-grind on the dimensions of each piece of glass; then trying to plan and optimise production is an incredible challenge. "You can't do that working out of an Excel spreadsheet. You need specially developed software, if you're going to do any volume at all."
To this end, the company's investment programme includes not only a multi-million pound spend on its new state-of-the-art 41,000 sq ft factory, which Specialist Glass Products added to its pre-existing 30,000 sq ft site last year – but also a corresponding investment in software.
"We started working with Clear Thinking Software in 2007 using an early version of its order processing and management tool, Glass Office", continues Andrew. That got us started but compared to what we have today, it was a much more basic starting point. We've since worked with them to develop a very sophisticated platform, which allows us to manage orders, plan and gives us full visibility of manufacture at all stages of the production cycle."
Its current incarnation is the product of more than 30 years continuous development and refinement offering a series of unique features including the ability to manage pricing, discounts and orders; schedule a mix of IGU manufacture with process work; track failed units to specific production cycles to understand the cause of those failures; print labels, delivery notes and schedule deliveries.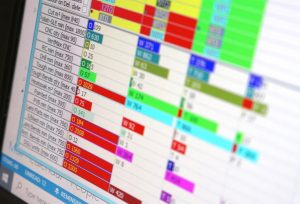 It does this using bar code and scanning technology to provide real-time visibility of exactly where product is in the production cycle, and in relation to staging gates critical to on-time customer delivery.
"It's been very important for our planning process", continues Andrew. "We had a member of staff who was trying to do it manually but it became impossible. We knew we needed a solution.
"Glass Office is a highly adaptable platform. Our focus on higher value and specialist work means we're running many more processes. We're cutting, polishing, CNC processing, drilling, toughening, bending, laminating, and manufacturing IGUs.
"That allows us to build more margin because of each of those processes adds value and we can charge more for it – but it makes planning and visibility of those processes critical, if we're going to deliver them efficiently.
"Glass Office allows us to run orders across different machines to optimise production and still give us full visibility of where that product is at any time as long as it's been scanned.
"We sit down each morning in a production review and can see exactly where each piece of glass is and if it isn't where it should be, to work out if we have a problem and correct it before it impacts on delivery dates or customer service, or simply if someone has forgotten to scan it on the factory floor!"
While Clear Thinking Software's Glass Office has supported Specialist Glass Products in driving increased efficiency in production and scheduling, Clear Thinking's GlasSave glass optimiser supporting Specialist Glass Products in taking this a step further, reducing wastage and maximising efficiencies.
"We were pretty good at optimising our use of glass", continues Andrew. "I started out as a glass cutter and I still think I would get the most out of a sheet. We also had a couple of guys who were pretty good. "As your volume grows, however, your efficiency starts to depend on who you have on. It's also very different optimising 20 sheets a day compared to two.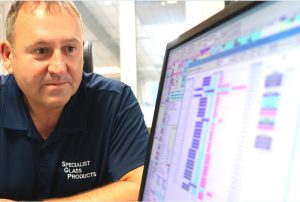 "Our use of Clear Thinking's optimiser saves us a minimum of 10% on wastage on our production and it doesn't matter who's on the table."
GlasSave is designed to work with a wide range of glass cutting tables, helping to maximise outputs from 3210 x 2250/2550mm sheets as well as full jumbo 6000 x 3210mm sheets, creating clear cutting plans based on daily production requirements. In addition to this, it also takes into consideration the available space for sorting and storing cut glass, nesting shapes, for example balustrades, wherever possible, also storing and re-using off-cuts, where appropriate to do so.
This delivers significant efficiency savings compared to manual cutting of between 15 to 30%, directly putting back on your bottom line by reducing overheads.
"GlasSave has been critical to our ability to maintain the efficiency of production as we have grown", adds Andrew. "The increased specialism of our business means that the value of each sheet of glass is higher. We don't want to waste anything."
Purpose-built, its new factory has also supported Specialist Glass Products in driving further efficiencies in production. This includes two new Glass Bending toughening furnaces, which give Specialist Glass Products the ability to manufacture on a much bigger but also smaller scale.
Andrew explains: "One of the Glass furnaces allows us to bend sheets of 5×3.2m, so we can manufacture over-sized curved units. We also have a second furnace which allows us to roll sheets to a radius of as little as 450mm – a unique capability in the UK. That's in addition to a medium sized bending furnace which will process to a minimum radius of 880mm. "We also have the ability to manufacture oversized toughened and laminated flat glass units to 6m x 3.2m, with everything done in house.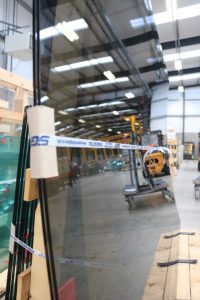 "The new production lines also replicate Italian and German lines in that it's a very long building and everything goes in one direction, a little bit like a T-Ford or car production line, with all lifting done using overhead cranes and suction lifters. "In all it's an investment of more than £5.5million but we need that capacity and scale to deliver the specialist units that our customers are demanding in structural glazing, commercial fit-out and over-sized IGUs.
"We need to be in a position to handle the work but also do it efficiently. There was a time in the past where we were turning work away because we either couldn't handle the size of the job or didn't have the flexibility to accommodate it.
"The investment we have made in machinery, the factory and critically, the process management and software tools we use, gives us significant efficiency gains but also the control of process and increased flexibility to take on almost any job and deliver it in-house from start to finish."
Specialist Glass Products Ltd.
Milnsbridge Business Centre,
Colne Vale Rd,
Huddersfield
HD3 4NY
Tel: 01484 647744
Article originally appeared in Glass Times magazine October 2019