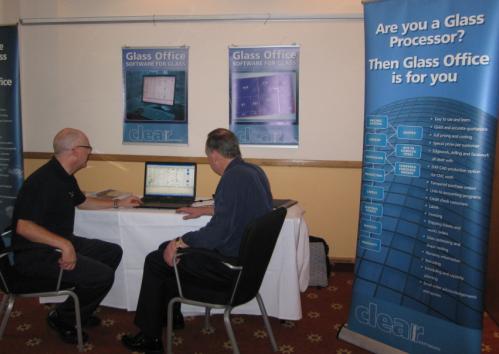 Malcolm Searle presents Glass Office to a visitor at Meet the Professionals in Bristol
Clear Thinking recently supported Bohle at a new regional roadshow event – Meet The Professionals – in Bristol. Organised by Bohle, it was the first of it's kind and was held on Thursday 14th April at the Hilton Hotel.
Clear Thinking Software exhibited with Bohle at the event alongside Promac and Supertrucks and there was a series of presentations throughout the day from all four companies, all of whom talked about their own area of expertise.
Complimentary tea and coffee was available throughout the day as well as lunch and all attendees took away a bag of Bohle goodies worth over £20.
Malcolm Searle, MD of Clear Thinking commented after the show, 'It was good to be there and be available throughout the whole day for both existing customers and to meet some new faces, and with entry and parking being free for everyone, it made the whole experience well worth it. We renewed some old friendships and met new companies who we hope will join the Clear Thinking community in due course.'