Established in 1998, Futura Frames Ltd, based in Bandon, County Cork was born out of the far sighted need of several dynamic local construction and installation companies to form a cooperative to make frames for their own use, and later to supply the local trade in the area. Futura Frames is still owned by Leo West Enterprises, Classic Building Solutions, C&W Aluminium and Westco Construction. Futura has gone from strength to strength over the last 9 years and now has the capacity for 1500 frames per week. It employs 80 staff and turns over €10.9m, so it is a significant player in the local economy.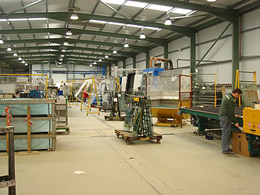 Clear Thinking Software first got involved with Futura in 2005 when they decided to start making their own sealed units. Futura had never made DGUs before, so part of the brief was to make the installation as smooth running as possible and provide a lot of support in the first year. Futura had a huge amount of experience in making frames, but needed a lot of hand holding with this venture into glass. They also had a significant amount of help from their principal machinery providers, Bottero and Bystronic.
Typically, an order will start at one of the principal window outlets, and will be keyed into one of the 25 remote Windowmaker systems, this is then transmitted to the factory without re-keying and as the frames are scheduled, the glass is then automatically passed over to the Glass Office software from Clear Thinking. It is a testament to the technology led solutions that Futura has sought out, that they have a team of only 4 people in their production office, planning and scheduling 1500 frames and 3000 units per week. The links then carry on onto the 50,000 sq.ft shop floor. On the glass side, the Bottero 6 station cutting line is wired to the computer network, so that the new cutting instructions arrive on the shop-floor machinery exactly as they're needed (no floppy discs to get lost!). Similarly, the spacer bender receives all the spacer bar information in the correct sequence to match the sorted glass output to quickly and easily match up all the components at the start of the automatic Bystronic sealing line, which will gas fill as appropriate, and even apply transport pads should the glass be supplied loose to the trade. However, the majority of the glass is for Futura's own frames and is then passed to the glazing department, where the frames are made in the same sequence as the glass. The Clear Thinking solution will ensure that the glazier can quickly and easily find all the panes nearby for the windows that he has ready on the bench in front of him, because the glass is batched and sorted to match the sequence in which the frames are made, and so the two assemblies will arrive at the glazing area, at the same time, in the correct sequence.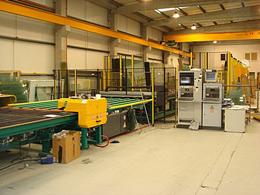 Futura are now ready to roll out "Windowseller" systems to their top trade customers, so that they can price, check and order the frames without the need to get a quote of check manufacturing sizes from Futura. Again, all the glass requirements will be turned into sealed units and window frames with no time consuming re-keying,
Tony Lynes, general manager at Futura said, "When we created this business, we knew that we wanted to keep our overheads realistic. The one time cost of the software and links between sites and factory and machinery has meant that we have grown significantly with the minimal need for rows of expensive typists, who would simply re-key orders faxed in from another computer program. This investment in software has repaid itself many times over and eliminated the mistakes that some of our competitors probably suffer from. Quite simply, what is keyed into the Windowmaker system is what we make."
To further improve the speed of their service to their principals and external customers, Futura are investing in a new toughening furnace, "This will eliminate the inevitable delay that ensues from requesting a remake for a site breakage from an external supplier, who priorities are not the same as ours," says Tony. "We were not unhappy with our existing toughened supplier, but we have now got to a size when the economics made sense and the driving factor in the decision making process was that our customer service levels can leap up a level. Having principals who understand the day to day issues on a building site made this a straightforward and inevitable decision for Futura."
"We are investing heavily to ensure that we are ready to cut, toughen and seal a low E softcoat product," Tony goes on to say. "We expect the Irish market to follow the UK market in due course and become more and more interested in energy ratings. As consumers become more aware of the effect of better rated windows on the resale value of their houses, we expect more demand from the trade. In the shorter term, our aluminium frame customers are keen to buy a "Low E" product. The furnace represents the final piece of the jigsaw to help us achieve this aim."
Article first appeared in Glass & Glazing Products – April 07