Wadds Ltd march on to better things
"..we've been pleasantly surprised.. Glass Office is installed at our other branches and is now being used at Wadds to deal with our very different business requirements.."
Wadds Ltd has been the household name for glass in the North-east for decades.
Operating out of a large modern factory in Team Valley, Wadds are specialists in all types of glazing, be it supply only, contract glazing or emergency glazing.
Alex Gray of Wadds, says, "With years of experience in emergency glazing, we have equipped ourselves so that we can replace our customers' glass immediately. This is because we have the facility to cut and install up to 6m x 3m sheets of laminated glass anywhere in the North-east on our own vehicles. We also have our own DGU production line. This means that retailers can be trading again instantly, without unsightly boards hiding their display, or householders can be safer that much quicker. At Wadds, we understand and fully appreciate the meaning of the words "emergency service."
"We are also able to polish, drill, bevel, toughen our own glass and supply fire rated glass cut to size from stock. We even have our own bending furnace for making curved units, which means that we can be a 'one stop shop' for the trade, or conversely supply everything that's required for a commercial or domestic installation."
"One of the first issues we had when revamping Wadds was providing software that would help the sales and administration teams do their jobs quickly and easily. Having used the Glass Office software in the other two sites in our group, in Glasgow and Birtley, it seemed natural to invite Clear Thinking in to see if their software was as good for glaziers, as it was for supply only DGU manufacturers. I have to say we've been very pleasantly surprised by the way the team from Clear Thinking have configured the same program that we use in other branches, to deal with the very different business requirements that we have here at Wadds."
"We can charge each customer special rates for their jobs, and we can automatically build the labour element of glazing into the costs. Alternatively, if we need to visit a site to estimate the work, we can override the total job price, if there are aspects to the job that the software cannot predict, like skip or crane hire. We can also hide the schedule of surveyed glass sizes from the end customer, so that we do not become a free surveying service and just provide him with a benchmarked, priced shopping list!"
"This means that all the companies in our group use the same software and its excellent reporting, and link to the same Sage accounting system, which makes life easier for the employees, so they can help each other. It's easier for the management as the reporting is consistent and easier (and therefore cheaper) for our accountants, as everything is presented to them in identical format at the year end. It also gives us great control of these three dynamic businesses, as we can see the profitability of every job and every customer's contribution can be scrutinised, and we have up to date profit and loss from each of the subsidiaries."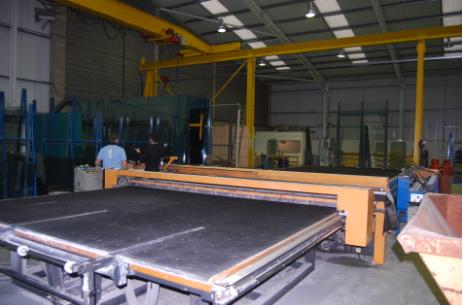 "We believe that in times when the market for glass isn't growing, these tools give us a significant edge, so we know when to turn work away, Yes, you heard that right! Turn work away! Unlike some short termists in this industry, we're firmly focused on profitability, not turnover, so sometimes we'll choose not to take on work that we can't make a margin on and would be damaging to our business."
"We know we can provide a superior product and always on time. We're finding that as customers learn that we do actually meet our promises and that they can rely on us, we now actually have mutually trusting and beneficial partnerships with customers, to the extent that the price isn't the single most important driver, these customers are reaping the rewards of our commitment. For example, they know that the glass doesn't have to be in their factory before they schedule an installation, if we say it will be there on a given day it always will be, and we've had a 100% delivery record for the last two years to back up this claim. This translates into a trust/benefit for our customers, in that their workshop isn't cluttered up with work waiting to go out and getting scratched, they're not paying for work that's just sitting in their workshop that they're not getting paid for, and so everyone wins."
Alex Gray concludes, "Whether it's a shopfront that needs replacing or a failed domestic sealed unit, Wadds can solve your problems, quickly, efficiently and at a reasonable price, and we're very pleased to find that Glass Office from Clear Thinking Software suited all of our glazing oriented needs."
http://www.waddsglass.com/default.asp
Article first appeared in Glass Times - June 2009

© 2012 Clear Thinking Software