Tudor Glass invests in the future
"We were looking for a software vendor who would supply a flexible and cost effective system that can change to meet our ever changing and expanding needs, but we wouldn't have to buy everything at day one, so we can build on the software as we grow."
When times are hard, it's refreshing to be able to report on a company that is not only holding its own in the current recession, but is actively investing for its future and is putting their money where their mouth is. This company is Tudor Glass (Essex) Ltd based in Chelmsford.
Having outgrown their 3000 sq.ft premises, Tudor Glass now occupy 11,000 sq.ft fully equipped purpose built factory with gantry crane, edge deletion cutting table, super spacer applicator and gas filling equipment. They now have a capacity to make 2500 units per week, and can supply and deliver units all over Essex.
Mike Whitlam, business development manager at Tudor Glass, who has many years experience of glass factories and software and is well known to many people in the glass industry, says, "We were looking for a software vendor who would supply a flexible and cost effective system that can change to meet our ever changing and expanding needs, but we wouldn't have to buy everything at day one, so we can build on the software as we grow."
Malcolm Searle of Clear Thinking Software says, "We were pleasantly surprised and flattered that Mike chose our software over others. We have worked long and hard to make our software the best for the UK glass and glazing market, and we see Mike's purchase as an endorsement of our policy, and we're very pleased to welcome him as a customer of ours."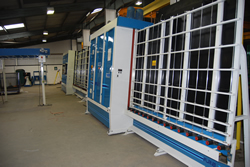 Promac Forel sealing line (above)
Mike goes on to say, "I particularly liked the way we can put our customer's information (name and logo) on the labels if they wish, and useful subtle things, like putting the unit weight on the label, all help with health and safety issues. I've found that the Glass Office and GlasSave programs are ideally suited for the UK market and that Malcolm and his team at Clear Thinking are very willing to take on board ideas from customers and incorporate them into their software."
"We've now concluded our piloting of EDI (Electronic Data Interchange) with our largest customer, both for importing the glass sizes they require straight out of their window fabrication program without re-keying, and also sending them their invoices to be imported straight into their Sage accounts software without any extra work. We're now in a position to offer this facility to our other customers."
"We also have the facility to order our toughened glass directly by EDI from our toughened supplier with the Clear Thinking program, without any retyped or handwritten orders. This is essential to keep our costs down and make our turn around to our customer as swift as possible."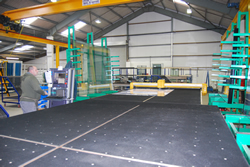 GFPm automatic glass cutting table (above)
"We have invested in the first edge deletion cutting table in the UK from Promac, who are the sole agents for GFPm. GFPm are a leading Italian manufacturer of laminate and glass cutting equipment, who although being well respected in Italy and having a large installed base there, felt that being represented by Promac in the UK and in Ireland met with the service and performance profile that both companies deliver." Joe Hague who heads up Promac's glass division says, "We were delighted when Tudor Glass chose Promac to supply not only the GFPm cutting table, but also a For.El IGU line, Pro Cut saw and argon gas filling equipment. We felt the combination of our machinery, service and great value proved essential in securing this contract."
The Pro Cut saw integrates with the glass software to automatically cut all the aluminium spacer bars and all the Georgian bar requirements. Mike says, "This integration means that all the bars are always cut to the correct length and in the correct sequence. This ensures that the units are assembled correctly first time. The glass needing super spacer will be cut and racked in a separate trolley (whether it's hard or soft coat), and can therefore be moved to the super spacer applicator, whilst the conventional bars are done separately. All of our glass is put into slot racks that are designed to take soft coated glass. This means that we don't get any scratches around the factory, and we can send glass to different departments (leads/Georgian, Super spacer, etc) without extra handling or any reduction in cutting wastage." Mike is also putting the finishing touches to their website (tudorglass.net), where customers can see examples of their work, their certifications and other useful information.
Malcolm Searle concludes, "Although the GFPm edge deletion table is a newcomer to the UK and a new output format for us, we were able to work closely with Joe Hague and his technical colleagues in Italy and provide the team at Tudor Glass with a pain-free installation for everyone concerned. We're very pleased to welcome Mike Whitlam and everyone at Tudor Glass to the Clear Thinking software community."
Contacts:
Mike Whitlam - Tudor Glass - 01245 249404 http://www.tudor-glass.co.uk/
Joe Hague - Promac Group - 07866 767371 http://www.promac.co.uk/
Article first appeared in Glass Times - April 2009

© 2012 Clear Thinking Software