How Mid Devon Glass invested in the latest technology of laser marking
Tiverton based Mid Devon Glass recently invested in the first retrofitted laser marking system for a UK cutting table - this was a three way joint venture between Hegla Machinery, Mid Devon Glass and Clear Thinking Software.
Mid Devon Glass have been supplying the region with high quality glass for nearly twenty years, and over that time have been investing in the equipment that best enables them to serve their market. They now have a Hegla autoloading cutting table for float and laminated glass, a Cooltemper furnace and Bystronic IG production equipment. Kevin Squibb, Managing Director of Mid Devon Glass says, "Over time we have built up our business and invested in the best equipment we can afford. I'm a strong believer in having the right tools for the job, and now we have control of our own destiny in that we can cut, toughen and manufacture our own DGUs without needing to buy products in. We have achieved all of the relevant standards for our products, and are pleased that we can deliver a quality product, on time, to our customers."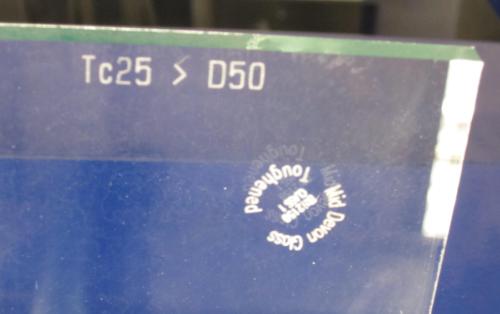 Close up of laser marking on toughened glass showing pre and post toughening rack numbers
"We're always looking to use technology to help us work more efficiently, and the new Hegla laser has meant that every piece of glass we cut can be laser marked with an identifier, so that it can be tracked through the factory and the toughened pieces can have the tough mark on them. But we understand that the machinery is only as good as the software that controls it, and we have been very happy with the reduction in waste we have obtained by using the Clear Thinking system, so we naturally turned to them to provide the additional software to control the laser - this now automatically marks each piece of glass before it's cut, so there is no chance that the marks can be on the wrong piece, unlike an offline "after cutting" system when there's always the chance that an operative has mishandled a piece of glass."

Kevin goes on to say, "The laser only takes about twenty seconds to mark all the pieces on a whole sheet of glass, which is more than compensated for by the speed gains when breaking out, as the operator no longer has to write on any of the pieces and can just read the information and rack the glass accordingly. We are now consistently achieving a much higher output of glass cut, broken out and slotted per hour, which makes the cutting operation ultra efficient. The glass is now presented to the furnace or the sealing line in the sequence we choose which best suits production. The software has been particularly useful when we make shaped conservatory roofs, and when we manufacture triple glazed units, it is now much less ambiguous as to how to assemble three panes of glass on the right configuration as each one is marked."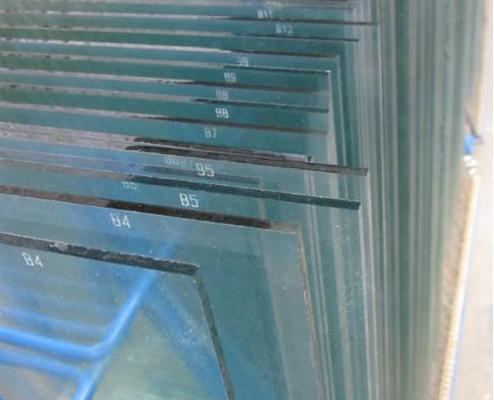 Laser marked glass in a rack
Kevin concludes, "As a technology enthusiast, I was pleased to be very involved with the whole project from start to finish and was able to have a lot of input in how things were done, so now I have an almost bespoke solution to the issues of glass marking and handling within my factory, but with the reassurance that this is now part of the standard offering from both Clear Thinking and Hegla, so ongoing support from both suppliers is assured."

Article first appeared in Glass Times - January 2013

© 2012 Clear Thinking Software