Cameo Glass change to Glass Office

"... Clear Thinking offered to loan us the system for 3 months so that we could get it up and running..."
One of Clear Thinking's 2010 success stories is a company based in Faringdon, Oxfordshire. Cameo Glass are roughly an equal distant from Oxford, Swindon and Cirencester and so are able to serve this large catchment area quickly and efficiently. "We are one of the few glass processors in this area with our own furnace, so we can provide a quick and efficient service to our customers without the delay of sending glass away to a third party to be toughened," says Clive Nicholls, owner of Cameo Glass.
"There's not much we can't do in glass these days, but in 2010 we made two significant investments in our business in the middle of a recession. We bought a new CNC machine and new software, both have proved their worth in these difficult times, but for different reasons. The CNC has enabled us to quickly produce accurate shaped and quality edge work on glass and the software has enabled us to hone in on our costs and keep a close eye on margins," continues Clive.
Another new venture for Cameo was launching their own branded specialist website for selling kitchen splash backs to the public SPLASHBACKS.COM. Clive goes on to say, "Obviously this is a very competitive and fashionable market sector at the moment, and we think that buying this internet domain has helped us keep our website towards the top of the Google rankings which is vital in the domestic market. That combined with a straightforward offering of standard sizes and colours, with an option to order bespoke sizes and colours and additionally have them installed, has proved to be a great showcase for our business."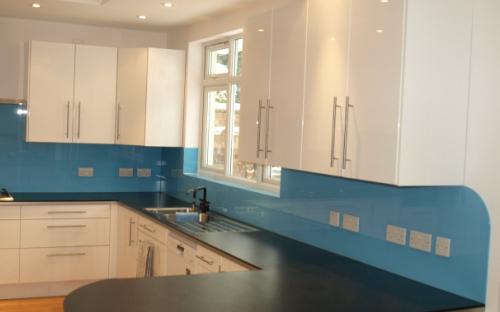 An example of Cameo's splashback work
Annette Chapman, Office Manager at Cameo commenting on their recent software investment says, "Our old software was DOS and proving to be inflexible, anyone new joining the business was having trouble learning it, so we tried to upgrade to the existing software suppliers windows version, but we found this far too confusing and after a year of trying to implement it, we felt we weren't getting the help we needed from our supplier."
"We were then introduced to Clear Thinking Software by a mutual acquaintance - as we'd had a disappointing experience with our old software supplier - Clear Thinking offered to loan us the system for 3 months so that we could get it up and running, and true to their word after this time, we were able to run all of our processing requirements from quoting to invoicing with much more efficiency."
Cameo's CNC machine
"In particular we received great help and training from Stacey and her colleagues in the support team and know we can call and always get through to someone who can help us when we have a query on the software. We have started with the basics of the program so we could implement it quickly, but we also know that we can add modules to our ever expanding business whenever we need to, therefore never out growing our software this time. We would now have no hesitation in recommending Clear Thinking to another glass processing company."
Article first appeared in Glass Times

© 2012 Clear Thinking Software